. "Leaded & Painted Stained Glass" cours. Erasmus+ project "Step by Step" nr. 2020-1-EE01-KA104-077765
15.08.2021 10:41
Gagarin
1543
15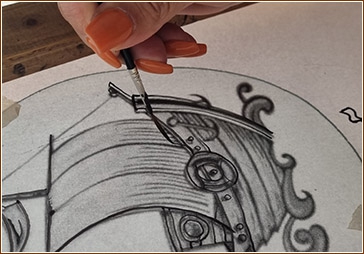 As a result of the 7-day training "Leaded & Painted Stained Glass" at Itaalia IKO Studio, we adapted this technique for conducting master classes on making jewelry and souvenirs with Estonian symbols.
Kursuse raames oleme täielikult välja töötanud oma individuaalprojekti - eskiisi valikust kuni valmistoote valmistamiseni. Projekrti osalejad tutvustati iidseid klaasimaalitehnikaid, traditsioonilisi klaasivärve, erinevaid värvitüüpe, kuidas neid segades varjuefekte tekitada ning värve, mis tekitavad läbipaistvaid ja läbipaistmatuid efekte.

Õppisime pigmente õigesti segama ja läbipaistvate emailidega klaasi osi värvima. Uurisime turul saadaolevaid erinevaid klaasitüüpe ja millised sobivad kõige paremini klaasivärvimiseks. Lisaks saime õpetajalt soovitusi, millised temperatuurid on erinevate klaasivärvide jaoks.
---
---