Master classes in fusing in January
11.01.2023 18:38
Gagarin
1223
0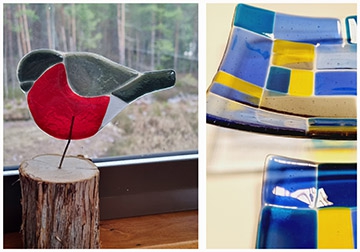 On 15th of January master-classes in fusing will take place. Participation requirements are the same as always; the necessary information for registration is also traditional: last name, first name, phone number, and the name of the chosen group. Please forward this information to info@gagarin.ee . Detailed information please find below ...
We would like to remind you that registration for participation in a master-class is OBLIGATORY, as there are only 10-11 places available in each group to ensure comfortable working conditions. Registration should be made by either sending an e- mail to the following e-mail address: info@gagarin.ee, or calling one of these phone numbers: 56498326 or 58160791. In your e-mail please indicate your first and last names, and your contact phone number. Upon receipt of your e-mail within 24 hours we will add your name to the list of people registered for a given workshop and let you know about your successful registration.
P.S. Photographs of the previous master-classes and all the works created at them are available HERE.
The requirements for participation have not changed. You will have a possibility to create any item you can possibly imagine. You can take a look at samples and variants in this technique at our forum HERE (link), or find them on the Internet or in books. There is an album with previous works on site as well.
There is going to be a practical lesson in the frames of the master-class, where you will be asked to make a composition from glass for future glass sintering in a special oven. Ready works, depending on their overall quantity, will be finished and given out (within 1-4 days).
The cost includes participation fee - 12 €, which is basic general fee of the group; for kids aged 7 to 15 participation fee is 6 € (if you attend more than one lesson during a calendar month, participation fee for every lesson is not 12€, but 7.50€), plus the cost of basic materials, which is calculated depending on the total area of your finished work. As an example, an item with the size of 15х15 cm is 4.5 € (for a single layer of glass), 10х10 cm - 2 €, 20х20 cm - 8€ respectively. Using this ratio, the cost of two and multi-layer works will be calculated. It is possible to make several items, in which case their total cost will be calculated. Usage of some exclusive materials is calculated on site.
Welcome to the course!
---
---