Projekt "Creation without borders"
01.03.2023 10:41
Gagarin
1335
13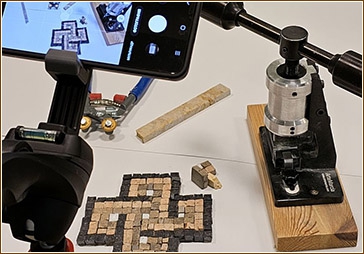 As part of this project we have completed several specialized trainings. At the Florence Classical Arts Academy in Italy, our teachers studied in detail the technical nuances of organizing online learning, how to shoot lessons on video, what programs and platforms to use to broadcast classes online. How to promote such training, what tools are needed to attract students, improved their competencies in digital marketing. Also, the teachers of our center successfully completed the course "Educational Video Production & Publishing" in Cyprus, where they learned how to independently develop and create educational video materials using various software and artificial intelligence. And in the final part of our project, our teachers had an internship in an organization KOKO MOSAICO in Italy that is engaged in similar activities and has also been successfully conducting online lessons, hybrid lessons in the stone mosaic technique for several years.
Project participants received full information about the technical screening for organizing online lessons, made a detailed list of what equipment is needed and how the workspace is organized for a successful demonstration. Also, a great attention was given on how light and sound are set up. As a part of the learning process, they learned how directing takes place and how a technical team is formed to shoot high-quality classes. Last, but not least – how to communicate and receive feedback from students during broadcast.
Participants learned how to independently prepare and create scripts for video lessons, interactive stories, add texts, pictures, music, voice acting, etc. Now they know how to competently promote this service in the market of online education.
As a result, at the moment we have an effective team for creative online learning in our organization, and in the near future we are already launching a full-fledged online school.
Projekti toetab Erasmus+ ja Euroopa Solidaarsuskorpuse agentuur Erasmus+ programmist
Projekt "Creation without borders". No. : 2021-1-EE01-KA122-ADU-000019
Erasmus+ KA122-ADU - Short-term projects for mobility of leaners and staff in adult education

---
---